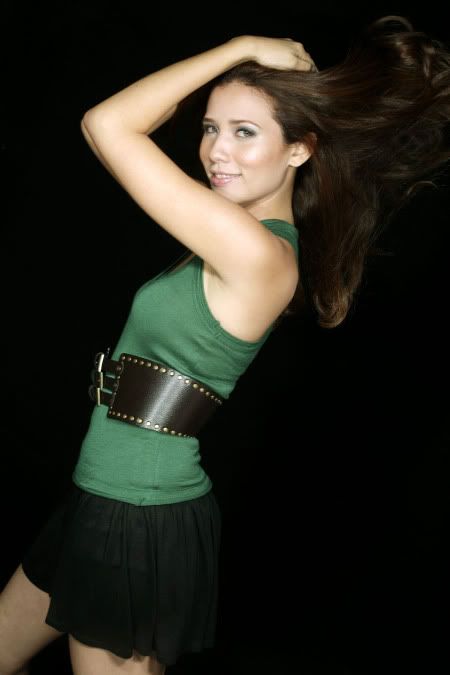 What's in a smile?
As in a picture, it paints a thousand words especially if that smile would come from
Karylle
who, when asked by
Boy Abunda
in last Sunday's edition of
The Buzz
if
Marian Rivera
is pregnant, simply smiled. She didn't make any comment; she simply smiled.
Interpreted as "pregnant," that certain smile set tongues a-wagging. Is Marian really pregnant?
The collective fingers pointed to
Dingdong Dantes
as the possible "culprit," if ever, after all isn't he now romantically linked to Marian, despite his vehement denial (saying only that "I'm comfortable with her"), after he broke up with Karylle (who had to go on a retreat and undergo counselling to deal with it)?
Whoever thought of that question should be made to kneel on monggo in a corner, arms outstretched. You don't ask an ex-girlfriend that kind of question about the girl generally (even if wrongly) perceived to have "stolen" her boyfriend, do you? It's foul for any girl to be asked such a delicate question about another girl, isn't it?
At yesterday's presscon for
Desperadas 2
, Regal Films' entry in the 2008 Metro Filmfest, Marian (who came several minutes late, with right foot still bandaged) flashed a smile when confronted with that actually non-issue. "No, I'm not pregnant!" She should have stopped there but she did not, what with movie writers all ears and TV cameras focused on her. She added, "With all the blessings I am getting, I won't commit that mistake," or words to that effect, adding, "And maybe five years from now if I do get pregnant, I will tell you about it; I will not just smile."
A movie writer (was it you, Ernie P.?), seated in a nearby table, called Marian "tupperware" (as in "plastic") because he recalled Marian having once dismissed him with a grumpy "Istorbo!" after he asked her to autograph her poster.
Seizing the moment, Marian broke into tears. Between sobs, she admitted having been offended by
Karylle
's "smile" because, according to Marian, Karylle seemed to have "insinuated" something.
In fairness to
Karylle
, she didn't say anything bad about or against either Marian or Dingdong while answering the first nine questions, until she was caught unaware by Question 10.
Here's what Karylle has to say:
"If there were any misinterpretations of my smile, I clarified it (yesterday) morning when I guested on
Boy & Kris
. Tito Boy (Abunda) even apologized for asking me (that question). Tita Kris said kasi that it was politically incorrect for him to ask me. I just explained that no matter what I would answer or however my face would react, it would mean something.
"Parang I was in a no-win situation. If I didn't smile, people would say I was bitter. I was actually trying to figure out what to answer and how to phrase it properly. And then, si Tito Boy suddenly said 'Thank you!' and ended the interview."
I disagree with Ernie P.'s observation that what Marian shed yesterday were crocodile tears or, according to another movie writer's analysis, "tears from a guilty conscience," obviously referring to persistent rumors that she and Dingdong have actually been carrying on an "affair" several months before Dingdong broke up with Karylle.
When she guested in
NUTS Entertainment
a few months ago, Marian was asked in the "whispering" segment of the show if she loves Dingdong and she reportedly whispered back, "Matagal na!"
Incidentally, if you happen to catch a clip of Dingdong and Marian in the
YouTube
exchanging a piece of chocolate mouth to mouth, don't jump to any conclusion. That was taken (out of context) from Marian and Dingdong's recent show (Let's Celebrate!) at the Shrine Auditorium in L.A. I should know; I was there.
In one portion of the show, a man and a woman were called to the stage to play a game in which Marian and Dingdong were asked questions and told to write their answers on their respective boards. When their answers jibed, the man and the woman were "punished" by letting him or her feed each other a piece of Kissses Chocolate using only their mouths. At one point, Marian and Dingdong's answers didn't match, so Dingdong and Marian were "punished" accordingly.
I take my hat off to
Marian
who performed to the audience's delight even if her right leg was in a cast, that's why she had to be on a wheelchair entering the stage. But she did stand up and dance in place. The audience had a good laugh when, during Marian's duet with Dingdong, he appeared onstage also on a wheelchair.
I told Dingdong that there seemed to be "something" between him and Marian on that Shrine stage and he simply said, with a smile, "I'm just comfortable with her." "It" usually starts with being "comfortable with each other," doesn't it?
~RICKY LO, PhilStar