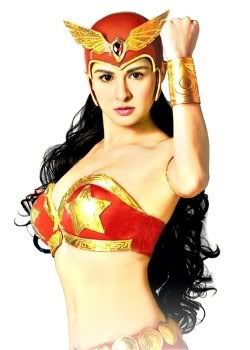 The results are! in GMA-7's
Darna
received 37.5% versus 37.6% TV ratings of
May Bukas Pa
. Just enough to shake the current Top Ten TV programs nationwide. People are expecting that
Marian Rivera
will topple perrennial leader
Santino
after she transformed from Narda to Darna.
Despite the absence of main host Willie Revillame, the undisputed #1 noontime show
Wowowee
maintained its No. 1 spot in the daytime race with 24.4%; followed by #1 afternoon soap
Kambal Sa Uma
(20.4 percent),
Eat Bulaga!
(17.6 percent),
Precious Hearts Romances
(17.3 percent), and
Kung Aagawin Mo ang Lahat Sa Akin
(15.4 percent) to complete the Top 5.
Richard Guttierez'
Zorro
failed on it's TV ending with 27% just enough for the 6th place while
May Bukas Pa
is still the #1 show last Friday, with 39.6%.
Here are the TV Ratings from August 7 to 10 based on the survey of Taylor Nelson Sofres (TNS Philippines) nationwide:
August 7, Friday
Daytime:
1. Wowowee (ABS-CBN) – 24.7%
2. Kambal Sa Uma (ABS-CBN) – 21.3%
3. Eat Bulaga! (GMA-7) – 18.6%
4. Precious Hearts Romances Presents Bud Brothers (ABS-CBN) – 18.4%
5. Kung Aagawin Mo ang Lahat Sa Akin (GMA-7) – 17.2%
6. Maria de Jesus: Ang Anghel sa Lansangan (ABS-CBN) – 16.5%
7. Ngayon at Kailanman (GMA-7) – 15.6%
8. Daisy Siete: Kambalilong (GMA-7) – 15.3%
9. Love Or Bread (ABS-CBN) – 14.8%
10. Pilipinas, Game KNB? (ABS-CBN) – 14.6%
Primetime:
1. May Bukas Pa (ABS-CBN) – 39.6%
2. TV Patrol World (ABS-CBN) – 36.9%
3. Only You (ABS-CBN) – 35.4%
4. Tayong Dalawa (ABS-CBN) – 35.1%
5. Boys Over Flowers (ABS-CBN) – 27.6%
6. Zorro (GMA-7) – 27%
7. 24 Oras (GMA-7) – 23.1%
8. The Wedding (ABS-CBN) – 21.9%
9. Rosalinda (GMA-7) – 20.4%
10. Adik Sa 'Yo (GMA-7) – 18.6%
August 8, Saturday
Daytime:
1. Wowowee (ABS-CBN) – 23.6%
2. Eat Bulaga! (GMA-7) – 20.5%
3. Cinema FPJ: Da King on ABS-CBN (ABS-CBN) – 16.7%
4. Wish Ko Lang (GMA-7) – 12.6%
5. Joey's Quirky World (GMA-7) – 12.4%
6. Entertainment Live (ABS-CBN) – 11.9%
7. Pilipinas, Game KNB? (ABS-CBN) – 10.8%
8. Startalk (GMA-7) – 10.7%
9. Art Angel (GMA-7) – 10.1%
10. Happy Land (GMA-7) – 9.3%
Primetime:
1. Maalaala Mo Kaya (ABS-CBN) – 29%
2. The Singing Bee (ABS-CBN) – 28.3%
3. Kapuso Mo, Jessica Soho (GMA-7) – 22.1%
4. Vilma: A Woman For All Seasons (ABS-CBN) – 20.8%
5. Komiks Presents Nasaan Ka Maruja (ABS-CBN) – 20.2%
6. Bitoy's Funniest Videos (GMA-7) – 19.3%
7. XXX (ABS-CBN) – 17.6%
8. Imbestigador (GMA-7) – 17.4%
9. Are You The Next Big Star? (GMA-7) -14.9%
10. Pinoy Records (GMA-7) – 13.8%
August 9, Sunday
Daytime:
1. ASAP '09 (GMA-7) – 20.5%
2. Your Song Presents: Gaano Kita Kamahal (ABS-CBN) – 15.1%
3. Matanglawin (ABS-CBN) / The Buzz (ABS-CBN) – 13.4%
4. SOP (GMA-7) – 13.2%
5. Joey's Quirky World (GMA-7) – 11.6%
6. Dear Friend: karibal (GMA-7) – 10.4%
7. Showbiz Central (GMA-7) – 9.7%
8. Kay Susan Tayo (GMA-7) – 9.1%
9. Hana Kim Crazy In Love (ABS-CBN) – 9%
10. Team Galaxy (GMA-7) – 8.5%
Primetime:
1. Rated K (ABS-CBN) – 30.8%
2. The Singing Bee (ABS-CBN) – 27.8%
3. Sharon (ABS-CBN) – 23.9%
4. Goin' Bulilit (ABS-CBN) – 20.8%
5. Mel & Joey (GMA-7) – 19.5%
6. George and Cecil (ABS-CBN) – 18.8%
7. All Star K (GMA-7) – 15.9%
8. Power of 10 (GMA-7) – 15.6%
9. Kap's Amazing Stories (GMA-7) – 14.8%
10. TV Patrol Linggo (ABS-CBN) – 13%
August 10, Monday
Daytime:
1. Wowowee (ABS-CBN) – 24.4%
2. Kambal Sa Uma (ABS-CBN) – 20.4%
3. Eat Bulaga! (GMA-7) – 17.6%
4. Precious Hearts Romances Presents Bud Brothers (ABS-CBN) – 17.3%
5. Kung Aagawin Mo ang Lahat Sa Akin (GMA-7) – 15.4%
6. Maria de Jesus: Ang Anghel sa Lansangan (ABS-CBN) / Ngayon at Kailanman (GMA-7) – 14.9%
7. Daisy Siete: ChaCha Muchacha (GMA-7) – 14.8%
8. Pilipinas, Game KNB? (ABS-CBN) – 14.3%
9. Miss No Good (ABS-CBN) – 13.6%
10. Mr. Bean (ABS-CBN) – 11.5%
Primetime:
1. May Bukas Pa (ABS-CBN) – 37.6 %
2. Darna (GMA-7) – 37.5%
3. TV Patrol World (ABS-CBN) – 35.9%
4. Tayong Dalawa (ABS-CBN) – 34.9%
5. Only You (ABS-CBN) – 32%
6. Boys Over Flowers (ABS-CBN) – 25.9%
7. 24 Oras (GMA-7) – 23.7%
8. Rosalinda (GMA-7) – 23.6%
9. The Wedding (ABS-CBN) – 20.4%
10. Adik Sa 'Yo (GMA-7) – 19.3%